Admission in Santosh Medical College and Hospital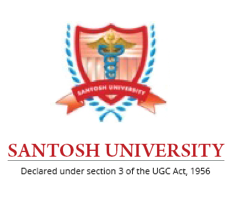 Santosh Medical College and Hospital was established in the year 1995. The hospital provides quality education in the field of medical science. The college has grown to become one of the top medical colleges in India. It provides MBBS courses at undergraduate levels and MD, MS and M.Sc courses in Postgraduate levels. In the year 2007, the college was assigned the status of Deemed University by Ministry of Human Resource and Development [MHRD] as it was recognised by University Grant Commission [UGC].
Recognition for Santosh Medical College and Hospital
Admission Procedure for Santosh Medical College
The candidate who seeks admission in UG level, Santosh University offers Bachelor of Medicine and Bachelor of Surgery (MBBS) and Bachelor of Dental Surgery (BDS) courses to the candidates who are willing to choose their profession in the field of Medical Sciences. The MBBS course is offered for a term time of 5.5 years including temporary job.
Admission to the MBBS and BDS programs is done through NEET UG. Qualified applicants should show up in National Eligibility and Entrance Test (NEET) directed by CBSE
The candidate seeking admission in a postgraduate course should have passed MBBS with rotational internship and should qualify the entrance exam
Courses Offered:
M.B.B.S (Bachelor of Medicine & Bachelor of Surgery

M.Sc (Medical Biotech

M.D. General Medicine

M.D. Paediatrics

M.D. Anaesthesiology

M.D. T.B. & Chest Diseases

M.D. Psychiatry

M.S. Obstetrics & Gynaecology

M.D. Physiology

M.D. Biochemistry

M.D. Pathology

M.D. Microbiology

M.D. Pharmacology

M.D. Forensic Medicine

M.D. Community Medicine

M.S. General Surgery

M.S. Orthopaedics

M.S. Ophthalmology

M.Sc. (Medical Microbiology)

M.Sc (Medical Physiology)

M.Sc.(Medical Biochemistry)

M.S. ENT

M.Sc (Medical Biotechnology)

M.Sc. (Medical Anatomy)technology)

Diploma in Orthopaedics (D.Ortho)

Diploma in Obstetrics & Gynaecology (DGO)

Diploma in Tuberculosis & Chest Diseases (DTCD)

Diploma in Psychological Medicine (DPM)

Diploma in Anaesthesia (DA)

Diploma in Clinical Pathology (DCP)

Diploma in Public Health (D.P.H.)

Diploma in Forensic Medicine (DFM)

Diploma in Child Health (DCH)

Diploma in Ophthalmology (DO)

Diploma in Otorhinolaryngology (DLO)
DEPARTMENTS:
Department of Anaesthesiology

Department of Anatomy

Department of Biochemistry

Department of Community Medicine

Department of Dermatology, Venereology & Leprosy

Department of Forensic Medicine & Toxicology

Department of General Medicine

Department of General Surgery

Department of Microbiology

Department of Obstetrics & Gynaecology

Department of Ophthalmology

Department of Orthopaedics

Department of Oto-Rhino-Laryngology

Department of Paediatrics

Department of Pathology

Department of Pharmacology

Department of Physiology

Department of Psychiatry

Department of Radiology

Department of TB & Chest
Direct Admission in Santosh Medical College and Hospital through Management Quota
Management quota seats are reserved for candidates who are not eligible for admission through normal admission procedure. A 15 to 20% of the seats will be reserved for management quota. The admission fees will be almost two to four times the normal fees depending upon the trust. The candidate is expected to pay a minimal amount for reservation of seat and the fees are structured in semester wise donation fees.
Are you looking for Admission Guidance or Direct Admission through Management Quota in Santosh Medical College and Hospital, then call us on 9741004996.
Reviews:
Preeti Gupta, MBBS
I have done my UG from Santosh Medical College. The college comes under the topmost colleges in India for a reason. It has one of the best education systems, as the faculties are well trained and highly cooperative with the students. The college's infrastructure is top-notch and the whole campus is surrounded by the greenery. Hence it makes a pleasant environment for the students to gain their education. I have done 1 year of internships under some famous Doctors, all thanks to the internship schemes operated by the college's placement and research development team. Overall the college days was the best part of my life and I am gonna miss each and every day of it.